Movement Is Medicine
Our chiropractic philosophy is that covering up a problem is never the answer. Drugs only mask symptoms—they rarely treat root causes. We believe movement is excellent medicine.
When you come to Sea One Family Chiropractic, we use physiotherapy in conjunction with adjustments. Not only will we help alleviate your discomfort, but we'll also help prevent it from coming back.
After listening to your concerns and assessing your range of motion, we'll tailor a custom set of whole-body movement methods just for you.
Book an appointment for a customized treatment plan today.
Strengthens Your Weaknesses
How well does your body move? If you're being honest with yourself, probably not as well as it could!
Physiotherapy can help strengthen your weaknesses. If your spine and joint biomechanics perform at a less-than-optimal level, that's a significant weakness for you, and it could lead to pain or injury. We'll analyze and work with your body to restore its optimum range of motion.
Chiropractic adjustments work best when combined with other modalities like a regimen of stretches and exercises. As with anything in life, you get out what you put into it. So do your best to incorporate our advice in between appointments and reap the benefits of physiotherapy.
E-Stim
Electrical stimulation (e-stim) is a physiotherapy tool we use to stimulate muscles and nerves, helping to reduce pain. The e-stim device sends mild electrical pulses through the skin to support our physiotherapy.
The two main types of e-stim are TENS and EMS.
TENS
TENS can be used for either long-term or short-term pain. Pads are placed on affected areas and send electrodes through the skin. These electrodes can block or reduce the pain signals that are sent to the brain.
EMS
EMS differs from TENS as it's slightly stronger. Although the application process is the same, EMS uses rhythmic contractions on the muscles. These contractions improve muscle strength instead of stimulating it through electrodes.
Interferential Current
We are able to treat some pain by using electrical stimulation. Interferential current can increase blood flow, which reduces swelling in the affected area. In turn, this treatment can help reduce pain in the area and stimulate muscle contractions to alleviate physical inhibitions that lead to discomfort.
OUR LOCATION
On-site corporate wellness by appointment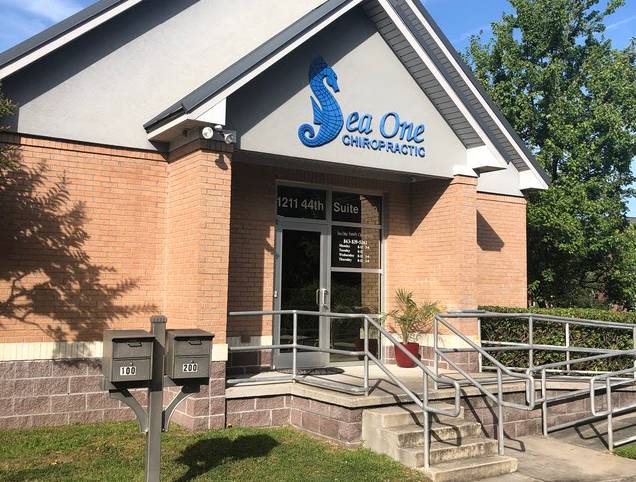 OUR ADDRESS
1211 44th Ave N, Suite 200

Myrtle Beach

,

SC

29577
CONTACT INFORMATION
HOURS OF OPERATION
Monday

:

8 AM – NOON, 3 PM – 6 PM

Tuesday

:

8 AM – NOON

Wednesday

:

8 AM – NOON, 3 PM – 6 PM

Thursday

:

8 AM – NOON, 3 PM – 6 PM

Friday

:

CLOSED

Saturday

:

CLOSED

Sunday

:

CLOSED
We're On YouTube
Our YouTube channel features videos for patient education, exercises, stories from our clients, and much more!
Testimonials
Going to Sea One Family Chiropractic and Dr. Alan…Completes Me.
Crystal
I had severe lower back pain and they have helped me tremendously! I was able to put off injections.
Carl
I started with Dr. Alan 9 months ago with severe sciatic pain – to the point of many tears. Today I am just about pain free thanks to the wonderful care by this amazing man. Seems to me we'll have a life-long affair!
Phyllis
My golf game is back pain free for the first time in awhile. I wake up to no pain in A.M. which is a nice change. I would advise anyone – especially golfers to try this because "all" golfers have some sort of back discomfort. Thank you Dr. Levy!
Robert
I have been coming to see Dr. Alan for almost 10 years. His adjustments cleared away severe pain then and continues to keep it at bay. Not only is the office very professional but I consider all who work there as friends. I would highly recommend them to anyone.
Leslie
Chiropractic with Dr. Levy has been extremely beneficial to me and my overall health. He coordinates well with my other healthcare professionals. I am a firm believer in routine chiropractic care as it greatly aids my flexibility and balance.
Rick
I came to see Dr. Alan because of a neck issue. I have been treated and am happy to say I feel 100% better. I also have been treated for sciatica and left leg ache/pain associated with this and am happy to say this has also been alleviated. Great overall care!!
Jill
Dr. Alan and I have been much more than a doctor and patient for years. I depend on him to keep my back, neck, arms & legs working well on this 77-year-old body. It has become my ritual and I look forward to my weekly visit. Then I have to wait six days before I see him again.
David
My experience with Dr. Alan and his team. Oh, Ahhh, Umm. How does he know, just where to push, pull, and twist?? I just hope he gets the right combination, when you need it most, and he usually does. Sometimes it is worth the visit just to lie down on the massage table, followed by a pull, push, with some good sound advise. I depend on his many years of learning, as a doctor, coach, and advisor, to find out and fix whatever hurts. With us, it has been a work in progress over several years of treatments, with some lapses, because of other physical conditions. Do I refer him to others, most definitely!
Chuck
My thoughts regarding Dr. Alan are "Thank You for giving me my life back!" I started seeing Dr. Alan quite a few years ago and he helped me immensely. Later I decided to try other options, wrong move! After approximately 2 years I came back to Dr. Alan asking him to help me get back to where I was before. He was so kind and started working on my lower back again. Praise the lord because he was able to get me to the point where I am now able to do all the things I want to do as well as some things I have to do (such as cleaning & organizing closets & pantries). Thank you Dr. Alan for your God given talent.
Shirley
I didn't realize how bad I needed a chiropractor until Dr. Alan started adjusting me every week. It has really improved how I feel every day.
Jennifer
Before being treated by Dr. Alan my migraines were coming 2-3 times a week, many times lasting 2-3 days. The pain was so intense I was barely able to work or function. Since seeing Dr. Alan I am down to 1-2 migraines a month, most of the time not lasting more than a day, and not nearly as debilitating as before. It has really been a blessing & I am so thankful!
Cassie
Dr. Alan is the first chiropractor I have ever seen. I was always nervous about going but after meeting Dr. Alan I felt a lot more comfortable with getting adjusted. He's always so kind and informative. Also very funny! I'm starting to feel better & better after each visit! Thank You!
Mary
We started seeing Dr. Alan for our 3 year old son who was having trouble falling asleep & focusing at pre-school. Weekly appointments to see Dr. Alan have made a huge difference in Cooper! We are incredibly thankful for everyone at Sea One Family Chiropractic!
Davis Family
Several months ago I woke up with severe back pain that lasted all day. I waited the whole day, it did not go away. At 6pm I called Dr. Levy, he waited for me to arrive at the office. A few days later I had an MRI that helped Dr. Levy assess my needs. In the past months he helped me prepare for knee surgery and later I returned for periodic treatments. Recently I had some pain in my arm coming from my neck. He has been very helpful! The problem with me is we travel, so my appointments are disrupted – I try to keep a schedule and that is when it is most effective. Although the appointments are not long, and don't need to be, the adjustments do help – maybe not immediately, but have faith and believe me you will say – "Hey, I feel better!"
Elaine
I was talked into trying a chiropractor and was impressed. I find Dr. Levy and staff welcoming and caring. He listens to what is going on with you and helps where needed. Wonderful Office!
Saundra
I'm not a person who goes to medical doctors but I have always used a chiropractor. I have been to some that have not helped, but Dr. Levy has used techniques that help. I have more movement in my neck than I have in years. All the staff are warm and friendly and very helpful.
Marilyn
Ron & I have been patients of Drs. Alan & Elaine for going on 10 years. We have encountered various painful issues throughout those years and Dr. Levy has always been there to help us heal and get us through. Ron has a cervical issue where he generally has double vision. Through targeted manipulations, Dr. Levy has helped him to have periods of relief where his double vison is gone – lasting one time for going on two years – other times for weeks. I have had sever sciatica bouts, the last one being the worst I have ever had. I had to use a cane for the first time in my life. Though other bouts have taken up to a year to get through when we lived in our home state, Dr. levy had me past this last one in a little over three months. I was completely shocked, beyond ecstatic and grateful. I had been prepared for another whole year's endurance. The Levy's truly combine their professional knowledge with genuine concern and care and that is a combination that cannot be beaten. There is no need to look elsewhere. Sea One is our chiropractic home.
Deb
Several years ago, I came to Dr. Levy with severe wrist pain, causing me issues with working and just everyday activities. He said, I can help you, and that he did! No more pain. Which I find truly amazing and am thankful for. Thank you Dr. Levy.
Carol
Life is a wonderful thing. We enjoy our family, friends, even our jobs, retirement even suits some of us. But we enjoy it more without pain. One of my most important decisions was to find Drs. Alan and Elaine Levy. Less pain and no pain, more flexibility is my life now. Any age, we can have pain. And any age we can have Dr. Alan and Dr. Elaine to make our quality of life better and have more fun.
Susan
Sea One Family Chiropractic is a joyful office. The care and concern of the staff is outstanding with great results.
Dr. Levy
Wonderful doctor, "coach" (swimming), friend (good & easy to talk to!). But more important he cares about how we feel and always wants to make us feel our best! I always know he'll fix me regardless!
Jamie
I have been having regular chiropractor adjustments for 10+ years (I'm now 54) I suffered from head, neck, upper + low back, even my feet hurt. I could barely walk in the morning. If it wasn't for Dr. Levy taking the time to listen to my history of problems, I would still be in pain. I admit I was a little wary, but was pleasantly surprised how good I felt after my adjustment. Dr. Levy was extremely thorough in his examinations. I highly recommend Dr. Levy, I feel like a new person in my youth. Thank you, Dr. Levy.
Alison
For the best crack in town, see Dr. Alan!☺
For real though, everyone is super nice and friendly. Always nice when my daughter comes with me. Wouldn't go any place else but here. Dr. Alan and all the staff here are the BEST!!
Amanda
I joined the Beach combers walking group in September so I could get out of the house meet people and walk .
I went to one of Dr Alan Levy's seminars. And learned about what causes back and neck pain. I made an appointment for a consultation, got an adjustment on my back and neck that same day. I have been going to Dr. Levy once a week for about a month and can feel the difference. I have less lower back pain and I can turn my neck much further than I could before. My Bowling has improved quite a bit because I am not in pain.
Dr Levy Thank you very much for your help.

Rich
I highly recommend Dr. Al! In the years I have known him and Dr. Elaine I have felt like family. Their genuine care is heart warming. Dr. Al has been an amazing almost miracle worker when necessary and brings my back in to much better condition. His sense of humor goes a long way to make things look more positive. I thank god for Sea One and the team. Thank you so much Dr. Al & Elaine!
Carmen
Prior to being pregnant, I never went to the chiropractor, yet suffered from sciatica pain for years! After being pregnant for a few months, I noticed my pain was only getting worse. My doctor suggested going to the chiropractor. BEST thing I could have done for myself! I wish I would have seen Dr. Alan Levy years ago! I can honestly say, I have NO sciatica pain, with only a month left in my pregnancy I feel fantastic! I hear of so many women having lower back and pelvic pain, and I am thankful I will never experience that with my future pregnancies now that I know the power of chiropractics! Doctor Levy and his staff are wonderful, and I will forever be grateful for the difference this has made in the quality of my life!
Capri